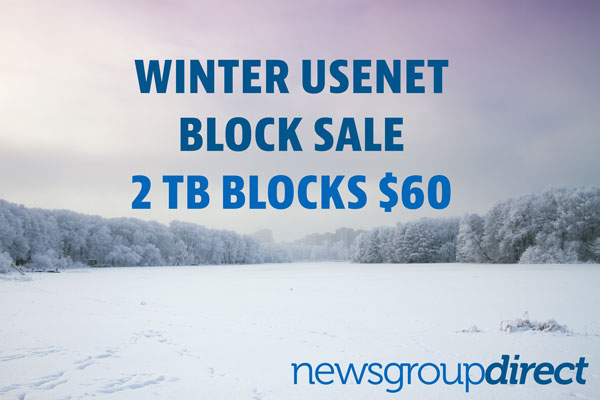 Our Winter Usenet Sale is live! For the next few days you can get our biggest and baddest usenet package, the 2 TB block, for just $60. That's a huge savings over the regular price of $200.
All NewsgroupDirect usenet blocks come with a 10% header allowance, so the 2 TB block will actually give you 2.2 TB to use. The sale ends at 11:59PM EST on January 13.
Visit our Deal of the Week page to buy. If you're already a member you can login and click Add Block.
Are You on the List?
Subscribe to our newsletters if you want to stay up to date on our offerings and promotions. We respect your privacy… so no spam, ever.
Join our Terabyte Tuesday mailing list if you want to be the first to find out about Terabyte Tuesday and our other awesome promotions.
Join our Happy Hour mailing list if you want to be notified about our lightning sales, where we offer a deep discount for a couple of hours, 3-4 times per month.