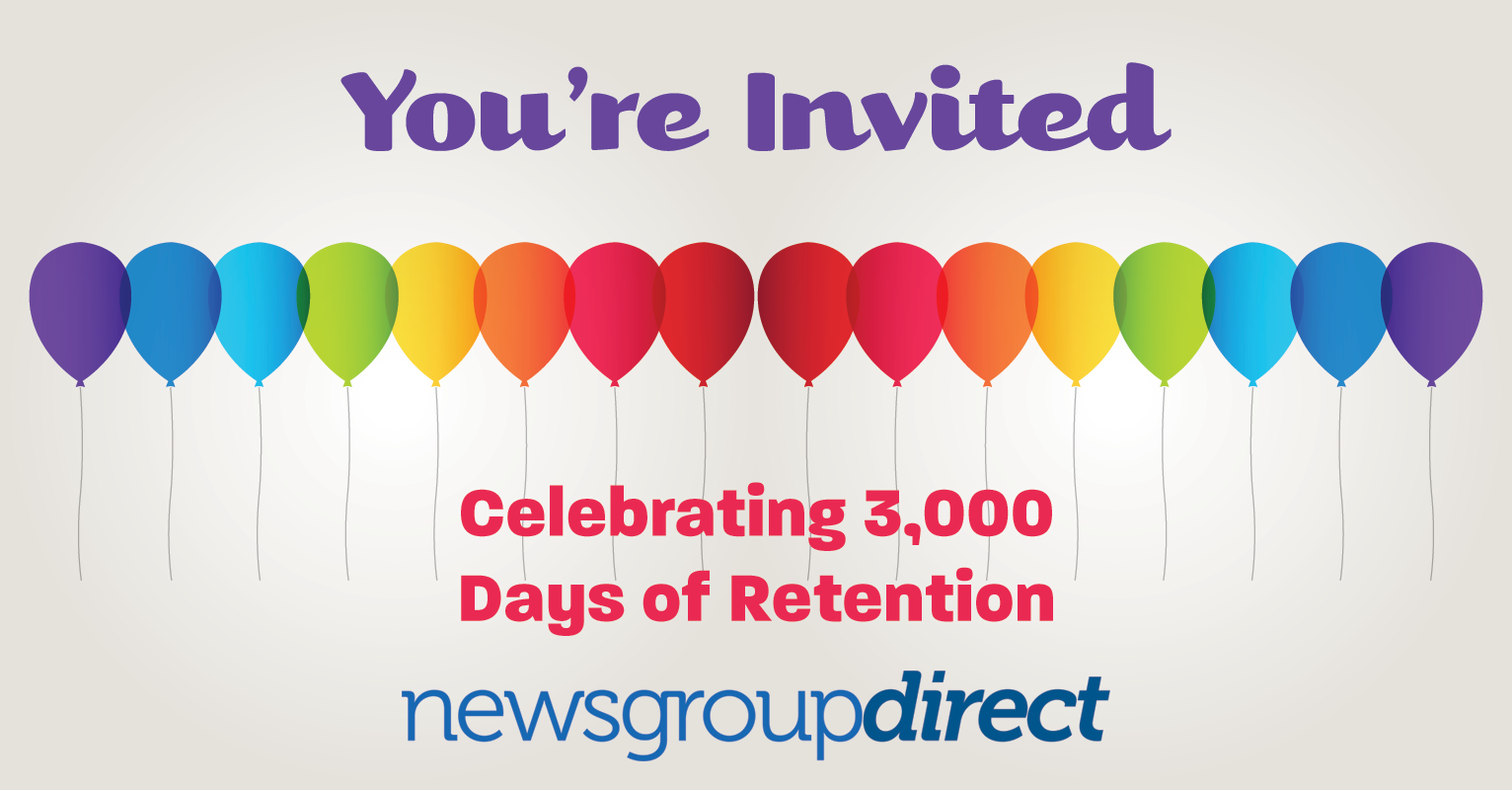 Today we have reached a new milestone in usenet performance. We have officially hit 3,000 days of binary retention. That means that no article posted in the last 3,000 days has been lost due to a lack of storage space.
Usenet feeds (the continuous flow of usenet articles being posted worldwide) have continued to grow in size over the years, requiring vast amounts of high-speed storage. Despite the ever-increasing costs we have committed to a policy of unlimited retention, which means that our retention will continue to grow indefinitely. Long gone are the days of deleting articles for the sake of storage space.
Just to put 3,000 days into context… that's about 8.22 years or 100 months. Here are some fun facts about day 1 of our retention, August 15, 2008.
George W. Bush was President of the United States
Michael Phelps won his sixth gold medal of the Beijing Olympic Games in the 200M Individual Medley
The Tampa Bay Rays were in 1st place in the AL East. 2008 was their first year as the "Rays", they were previously the "Devil Rays"
Katy Perry's "I Kissed A Girl" was the number 1 song in the US
Flash Sale
To celebrate this milestone we're offering our unlimited usenet accounts (no VPN) for just $7/month. For block usenet users, you can get 500 GB for $20, a big discount off the regular price of $45. The sale runs today only until 11:59 PM ET.
How To Purchase
New customers:
To purchase the $7 unlimited account go to our Deal of the Week page.
To purchase the 500 GB block, go to our Pricing page.
Existing block customers:
If you want to purchase a block at the discounted rate then login to our website and click Add Block.
If you want to upgrade to the $7 unlimited deal then just email [email protected] and we'll take care of you.
Why NewsgroupDirect?
NewsgroupDirect is the World's Best Usenet provider. We have the best features in the industry, including:
World-class Binary Retention (currently over 3,000 days)
Our blocks never expire, so you can stock up and not worry about losing what you've paid for
Our blocks are shareable. Split purchases with your friends to pay even less
Our blocks include free headers, no more using your data allowance for headers.
Discounts on Ghost Path VPN access
Industry-leading customer service
Want To Know About Future Promotions?
Join one (or both) of our mailing lists, depending on your interests. We respect your privacy… so no spam, ever.
Join our Terabyte Tuesday mailing list if you want to be the first to find out about Terabyte Tuesday and our other awesome promotions.
Join our Happy Hour mailing list if you want to be notified about our lightning sales, where we offer a deep discount for a couple of hours, 3-4 times per month.
The Fine Print
The sale runs until 11:59 PM EDT on November 1. No sale prices will be honored after the sale expires. Current unlimited accountholders are not eligible for the $7 unlimited account.