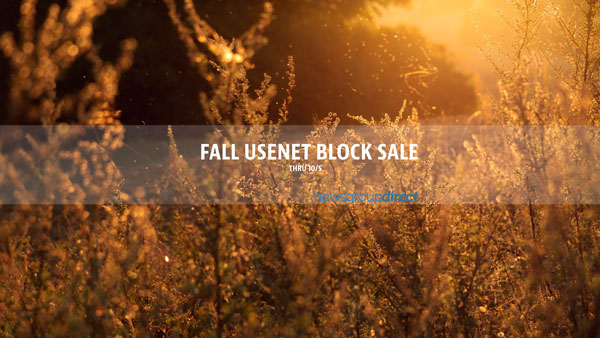 After a long, hot summer fall is finally arriving here in NGD country. That means it's time for our annual Fall Block Sale. For the next few days we are discounting our mega-sized 2 TB block to just $60 (regular price $200). Block accounts are shareable and never expire.
How To Purchase
Sale prices are available to everyone. New customers can simply visit our Pricing page. Existing block customers can login to our website and click Add Block.
Get Notified
Want to be the first in line to find out about Terabyte Tuesday and our other sales? Join our Terabyte Tuesday mailing list. We respect your privacy, so you'll only receive notifications about Terabyte Tuesday and our similar usenet sales.
The Fine Print
The sale runs until 11:59 PM EST on October 5. No sale prices will be honored after the sale expires. The sale prices are available to both new and existing customers. You are free to purchase multiple blocks. Coupons do not apply to sale prices. All blocks receive a 10% allowance for headers, so a 2 TB purchase will actually give you 2.2 TB, or 2,200 GB.